The Benefits of Blood
March 26th, 2015
In his latest BBC documentary, Dr Michael Mosley investigates the benefits of consuming your own blood as despite years of research the regenerative properties of blood are only just beginning to be exploited.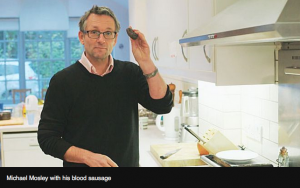 Whilst eating sausages containing your own blood might not be to everyones taste, the benefits of blood are well know within the aesthetics industry and are utilised in the Platelet Rich Plasma (PRP) or 'Vampire Facelift' treatment.
Along with Thread Lift treatments, the Vampire Facelift is one of the most talked about treatments currently on the aesthetics market and is an amazing addition to any cosmetic clinic.
During the treatment a small volume of the patient's blood is taken and then separated in a centrifuge. The platelets and plasma can then be injected into scars and wrinkles providing amazing results for patients.
Our one-day PRP training course is available to all doctors, dentists, nurses and midwives and costs just £295+VAT.